MSU AD+PR Alumna Works the Business Behind the Sports
Former PR Student, Meghan Durham, Discusses Her Role as Associate Director of Communications for the NCAA
By Amber Cooper, Haley Klein and Anna Kuchiyash
Sports Photo Credit: Michigan State University
The student section is going wild, the stakes are high, the players are playing their hearts out –  everyone might be there for different teams, but the one thing they all want is a win! Attending a college sports game, whether you're a student, alumni, parent, or just a fan, is an experience that is intense and exciting. Yet, there is business behind all the fun, much of which is overseen by the National Collegiate Athletic Association. The NCAA is a nonprofit organization led by members whose focus is to regulate the success and well-being of student athletes.
Michigan State University alumna, Meghan Durham, began working for the NCAA in 2013 as assistant director of communications. In September 2019, Durham became the associate director of communications and specialization in public relations. As a relatively recent graduate, Durham had some valuable advice for AD+PR seniors.
"Don't be afraid if you don't check every single box on a job application in terms of what they're looking for; that should not be a thing that deters you from applying for a job that you really want. Especially if you have skills that aren't specific to what the role is, but you know you can do it because of previous experience," said Durham.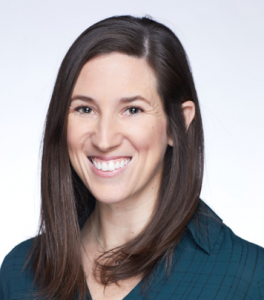 Durham says, the courses, clubs, and social events in which she participated during her time at MSU helped to prepare her for her career as a professional in the industry.
"Outside of the skills that I developed from writing while at MSU, I'd have to say that the interpersonal communication class that I took here has proved to be extraordinarily helpful in the real world. Looking back on what I learned from that class helps to figure out where I might be going wrong when communicating and I hope it helps me to be a better co-worker, " said Durham.
There's no doubt that working in the sports industry is different from a typical office job. For example, Durham works events in which rain delays are common. She says her team has to be fully prepared to throw the whole day's plan out the window and employ a totally different scheduling approach. In her seven-year career with the NCAA, Durham says her time as a Spartan has played a major role in her success.