AD+PR Graduate, Brianna Olszewski, Shares her Networking Secrets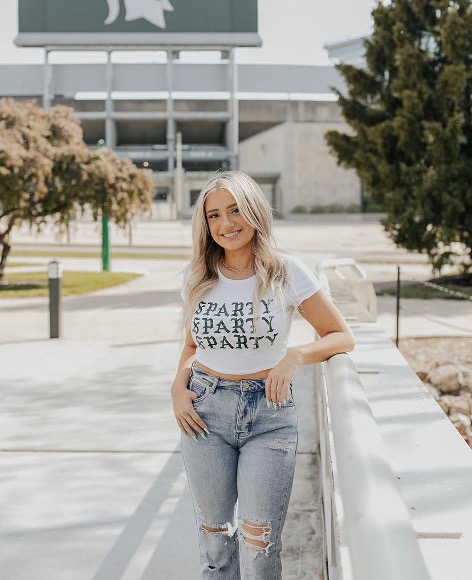 By: Sarah Peltz
New AD+PR graduate and networking guru, Brianna Olszewski, has made strides in the advertising industry since graduating from Michigan State University in 2021 with a degree in public relations, advertising and applied communication.
Following graduation, Olszewski began working as an account coordinator for Campbell Ewald, a well-known marketing and advertising agency in Detroit. After working at the agency for over a year, Olszewski moved to Blue Wheel Media where she now works for beauty and lifestyle clients. Along with her agency positions, Olszewski is also the co-founder of PRnet, a networking outlet for students seeking careers in fashion and public relations.
"Networking wasn't something I was taught in school," Olszewski said. "It was something my parents instilled in me growing up. They told me never to be rude to anyone I meet because they are potential connections that could help me down the road."
Olszewski was able to put her networking skills to the test when she joined MSU's fashion magazine, VIM, during her freshman year of college.
"VIM was my first big networking experience and my desire to continue networking really grew from there," Olszewski said. "I was actually sent the application to my current job by my first VIM director. It was her job that she was leaving, and I always made sure to ask her how she was doing to keep in touch."
Olszewski stressed the importance of using networking to make professional and personal connections rather than keeping in touch with someone for the sole purpose of advancing one's own career.
"When people are reaching out to a professional, sometimes they tend to make it more about themselves and what they want from the person rather than just having a genuine interest in getting to know them," Olszewski said. "I know if someone reached out to me and was like 'how can I get your job?' or 'how can I be you?' without actually being interested in learning about my career then I wouldn't be too excited to answer them."
See Also
Olszewski also emphasized the significance of connecting with people on social media after you meet them and regularly keeping in touch.
"If you meet someone and just try to reach out five years later, chances are they won't remember who you even are," Olszewski said. "Connecting with people on LinkedIn has been a great tool for my professional career and working on the agency side. But I also love Instagram for connecting with content creators or someone who is working in the beauty and fashion industry."
Although Olszewski has been practicing networking from a young age, she admits that it still can be intimidating.
"I know it's scary and the thought of them just reading it and not answering can be terrifying, but that's honestly the worst thing that's going to happen," Olszewski said. "You might as well go out on a limb and send the message because that will always be a better outcome than not reaching at all."