Spartan Strength Resounds in AD+PR Community Amidst Unprecedented Spring Semester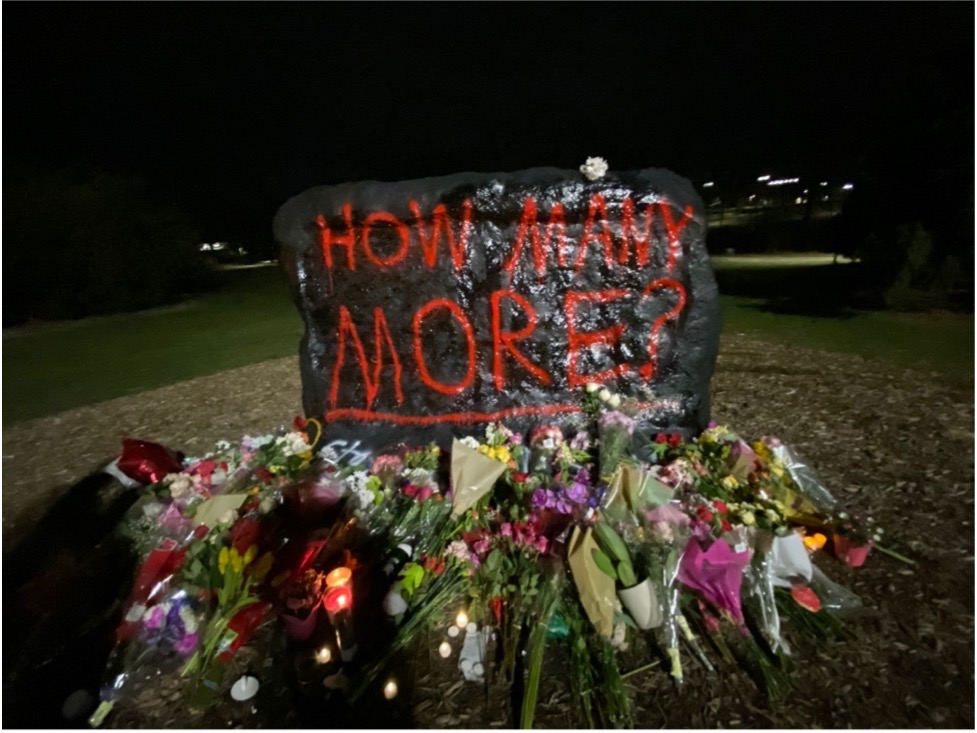 Fiona Johnson, third-year PR major, shares her experience healing from the MSU campus violence
By: Fiona Johnson
Editor's Note: Following the violence our Michigan State University campus community experienced in February 2023, many original content plans for The Brief's SS23 PR 320 student editorial team were no longer feasible or appropriate.
In that event, writers took alternate approach developing PR stories about themselves as students in our AD+PR community. For those students who found it healing or helpful, content focus shifted to experiences resulting from our campus violence, in classes the week after, access to departmental/campus resources or support, or involvement in campus and/or community events – especially those related to and connected with the Department of Advertising + Public Relations.
This special #SpartanStrong Issue of The Brief contains digital and video content related to the events surrounding MSU violence campus experienced in February 2023. To access crisis support resources and updates, please visit https://caps.msu.edu/emergency/feb2023crisisresponse/index.html.
On Feb. 13, 2023, Michigan State University's campus experienced the tragic loss of three students and severe injury of five students in a mass shooting. What was once a home and refuge to many students transformed into a place of fear and danger. With the feeling of uncertainty and worry among the students, faculty and family of MSU, a loss of hope paralyzed many. Without the MSU community's shared strength, recovery would have been impossible.
The immense amount of support and warmth from selfless volunteers surrounding the MSU community after the shooting exceeded all expectations, making MSU feel like home again. That support was especially prominent within the AD+PR community.
"My eyes were glued to my bedroom window with the view of cops and ambulances surrounding the Union," said Fiona Johnson, an MSU student majoring in public relations, who was heavily impacted, having been across the street from the MSU Union when the tragedy happened. "I was afraid to sleep in my apartment that night and many after, but also afraid to go outside."
Healing from having a clear view of a traumatic event is not easy. Living in a state of fear can make it nearly impossible to go outside or proceed with daily activities. Fortunately for Johnson, she says the AD+PR community made her feel comfortable and safe on the first day back in the classroom.
"I was late to my class because I was scared of being in a classroom setting again, but I entered the ComArts Building to a professor with a smile on his face offering me a donut and was surrounded by love from many volunteers on the walk to my classroom," said Johnson.
Along with the food, coffee and volunteers supporting students as they entered the Communication, Arts and Sciences Building, professors of the department have made it their priority to put their students' mental health before academics.
"Seeing my professor be bravely open with how she was handling everything really helped me feel less alone, and I am very grateful for her continuous support and kindness throughout the healing process," Johnson said about her PR 320 and PR 325 instructor, Amanda Vasas.
There is no clear path of healing from the event that MSU experienced, but the comfort that the AD+PR community gave, made it easier to take that first step toward moving past the trauma.
To access crisis support resources and updates, please visit https://caps.msu.edu/emergency/feb2023crisisresponse/index.html.