Squishmallows and Support – AD+PR Community Heals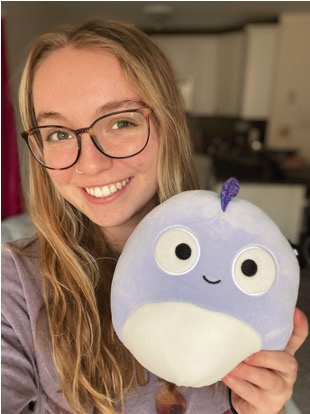 PR student, Emmy Zorn, reflects on her return to campus, exactly one week after campus tragedy
By: Emmy Zorn
Editor's Note: Following the violence our Michigan State University campus community experienced in February 2023, many original content plans for The Brief's SS23 PR 320 student editorial team were no longer feasible or appropriate.
In that event, writers took alternate approach developing PR stories about themselves as students in our AD+PR community. For those students who found it healing or helpful, content focus shifted to experiences resulting from our campus violence, in classes the week after, access to departmental/campus resources or support, or involvement in campus and/or community events – especially those related to and connected with the Department of Advertising + Public Relations.
This special #SpartanStrong Issue of The Brief contains digital and video content related to the events surrounding MSU violence campus experienced in February 2023. To access crisis support resources and updates, please visit https://caps.msu.edu/emergency/feb2023crisisresponse/index.html.
The morning of Monday, Feb. 20, public relations senior, Emmy Zorn, waited for her bagel to toast as she unbarricaded her apartment door. Each night since Feb. 13, Zorn had slept with two chairs and a small table blockading the entry to her studio apartment. Her regular nightmares were stopping, but the anxiety of living alone in the wake of surviving a mass shooting would take weeks to fully dissipate.
Campus was eerily quiet that morning. Many students were still at home with their families, having chosen not to return to classes yet, only a week after the tragedy on Michigan State University's campus.
"It felt so empty, like the soul of our campus had been carved right out," Zorn said. "I wondered if things would ever feel normal again."
Usually at 10:20 a.m. on a Monday, MSU's sidewalks were speckled with students biking, walking and skating to their classes. On Feb. 20, the sky was cloudy, and the sidewalks were barren. Zorn recalls her cross-campus drive to the College of Communication Arts and Sciences Building:
"Everything looked grey, and the weather was bleak. The only color on campus that day were the flowers piled at the feet of the Spartan Statue, and the handmade "Spartan Strong" signs lining the road," said Zorn.
As she entered the ComArtSci Building, Zorn was surprised to be greeted by smiling volunteers. Despite the gloomy weather, inside the building was warm, welcoming and bright. Colorful handmade posters from local elementary students lined the walls of the entryway, and tables were set up with donuts, granola bars and care packages for students. Zorn was given a Squishmallow, sticker pack and Spartan Strong bracelet, which she has worn every day since.
"I teared up when a volunteer handed me a little lavender Squishmallow. As an out-of-state student from California, I would have given anything to be at home at that moment, hugging my dogs and my plushies. It seriously meant so much that ComArts was willing to purchase these things to help cheer up students like me," said Zorn.
Zorn took a minute to chat with the volunteers and collect herself, before heading into her first class of the day. Plushie in hand, she sat down in a classroom for the first time since fleeing campus the week before. Healing would be a long process, but she was glad to be taking the first few steps alongside the other AD+PR students and staff.
To access crisis support resources and updates, please visit https://caps.msu.edu/emergency/feb2023crisisresponse/index.html.