PAB Spotlight: Distinguished Alumna Follows Her Passion Back to Detroit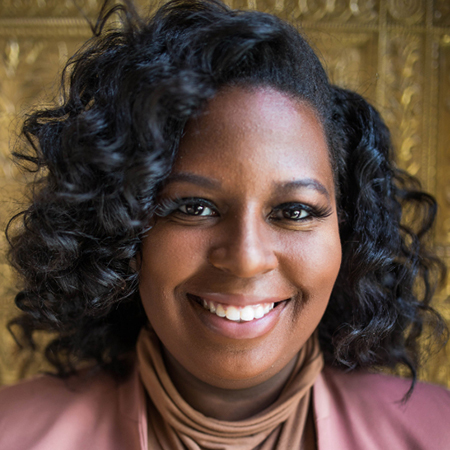 By Elena Boxey
Editor's note: Amber Lewis naturally has a mind for connecting others. From the moment we began direct messaging each other on Twitter, her eager and passionate spirit shined.
A prominent Michigan State University alumni who studied advertising, in the track of media and management, Lewis was recently named to the Department of Advertising + PR Advisory Board. This feat is no shock, as Lewis is already revitalizing Detroit's narrative and image so early in her career working as the City of Detroit's Director of Digital and Social Media.
I spoke with Lewis just before the first ADPR Professional Advisory Board meeting in October 2018.
Q&A as a Spartan:
Q: What was your favorite part of Michigan State University when you attended?
A: My favorite part of MSU was making connections and the opportunities available. Connections made all the difference during my undergrad experience from friends, to professors and especially the career center in the College of Communication Arts and Sciences. Because of the relationships I've built through my connections, I was afforded a lot of opportunities that gave me insight into my career today.
Q:  Did any faculty or peers influence you?
A: Karin Hanson from the Career Services office was a huge influence. She believed in my ability to succeed and would always help me with things from my resume to experiential learning opportunities and alumni and career connections.
Q: What are some things that you learned from your involvement in club(s) that directly influenced your professional career?
A: I managed a lot of social media platforms through my organizational experiences. That required me to capture content, create graphics, build awareness and grow the following, which are all things I do today. Acting as president of many organizations helped in my leadership skills and acting as secretary aided in my organizational skills.
Q: Were there any other experiences provided by Michigan State University or the Department of Advertising + PR that influenced your career path?
A: I attended a career fair at Michigan State University and dropped off my resume to the MEDC/Pure Michigan table and from there, landed a two-year multi-department internship. I would come home and attend the Live Work Detroit events and did a lot of work surrounding opportunities in the city. That provided a lot of perspective for me, as I originally planned to move to NYC for grad school. It not only showcased the opportunities in Detroit, but the misperception that were painted on a national level.
Q: Are there any tips you would give a student looking to follow in a similar career path as yourself?
A: I have four specific tips to offer:
Listen to yourself and go with your gut instincts. You know yourself better than anybody else. What makes sense to you may seem crazy to someone else who doesn't have the insight of your potential.

Ask questions. As a student, people are much more willing to provide answers, insight and resources. Utilize that superpower. 

Be persistent. I emailed my chief of staff weekly before being hired, but it kept me at the forefront of her mind when the opportunity opened up.

Your college experience is literally what you make it. Be authentic and make valuable connections and real relationships with people. Your network is almost as important as your resume. 
Q&A as a Professional:
Q: I understand that you are currently the Director of Digital and Social Media for the City of Detroit. Why did you want to represent Detroit?
A: As a Detroiter, it's purpose driven for me to represent the city that I'm from in honest ways. I stayed in Detroit to be an agent in changing the narrative, and I had no idea that I would be able to do it in this way. I am very grateful for this opportunity. 
Q: What is the most challenging part of representing the City of Detroit's image?
A: Detroit is a diverse city in many ways. Managing all of the social pieces and stories we want to tell from a mayoral, city government and resident perspective in addition to back-end logistics is a challenge. But it's also a reason that I love what I do, because I have the ability to create all of these things.
Q: How did your advertising and PR experience lead you to a successful career in media management and producing social media content?
A: My degree taught me valuable tools and tactics that I use every day. The ability to be strategic with campaigns and content and map out the process and not just working on ideas, but working on ideas that make sense, came from the foundation that the AD+PR program laid.
Q: Congratulations on being named to the Department of Advertising + PR Professional Board. What do you look forward to most about this opportunity?
A: I am looking forward to the opportunity to engage with students and really impact their lives as undergrad students and beyond. I know the importance that faculty and alumni played on my path, I was in Career Services and emailing Karin more than I'd like to admit but it made a huge difference. I met a lot of alumni at experiential learning opportunities across the country who gave helpful industry and career insight and I look forward to formally being that asset for students. I'm also really interested in the ability to impact curriculum. Somewhere down the line, I'd like to teach a college course so this experience will be very insightful for both students and myself.
Lewis is young and making moves for the City of Detroit. She is transparent, passionate about Detroit, and changing how the Motor City communicates. See her in action on Twitter at @SocialNTheCity.