AD+PR Student Athlete Talks Sports and Advertising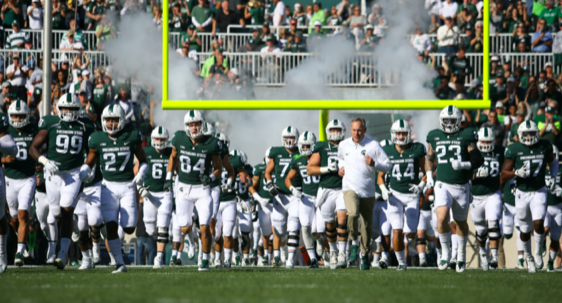 By: Carolyn Berg
Max Rosenthal is one of the roughly 300 student athletes in the Department of Advertising + Public Relations at Michigan State University. Besides being an advertising management major, he is also a tight end for the school's football team. And like many students, he has been forced to adjust his life during the global health pandemic.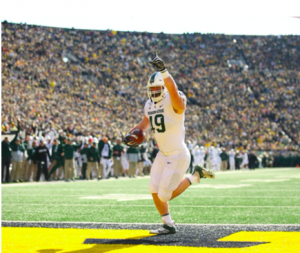 This semester has been challenging for Rosenthal due to the loss of social interaction following campus' closure. Rosenthal says he is doing his best to tune into classes and form relationships with his professors via ZOOM.
Despite a world gone virtual, Rosenthal has continued to stay connected to the Department of AD+PR. He has been a regular among events put on by the department, such as The Hustle in 2019 and MSU Ignite. Rosenthal finds these events like these to be great opportunities to meet and network with his peers, now more than ever since they are unable to meet face-to-face. Since the transition to online classes, Rosenthal says he has been able to improve his time management skills and complete his work more efficiently.
"In previous advertising classes, my football team has been a focus group and has allowed us to gain lots of support from our fellow Spartans," said Rosenthal. "Being a student and being a part of the advertising department has ultimately defined who I am at MSU."
After much discussion, The Big Ten conference has agreed on starting their season Oct. 24. The MSU Football Team prepared as normally as they could leading up to their first game. Since the Big Ten's new ruling, the Rosenthal says the team has been practicing and weight lifting six days a week to prepare for the new season. Practices have been adjusted to allow for better social distancing among players by separating players into small training pods. Players are also required to test daily for coronavirus.
Rosenthal says he is looking forward to the return of college football, but says he will miss the game-day atmosphere he has grown accustomed to the past two years. The loss of fans in the stands, for example, is something Rosenthal says he is not looking forward to.
"A full stadium always adds great energy, so it will be interesting to see how we perform this season without it," said Rosenthal.
Rosenthal says he is hopeful his positive energy and optimism about the new season will rub off onto his teammates and help the Spartans win a championship in this very unusual year.
Following undergraduate graduation in 2021, Rosenthal says he is excited to pursue a Master's of Arts in advertising at MSU. Another semester at MSU will give Rosenthal the chance to gain more skills in advertising and public relations strategies, and learn research methods and consumer insights. Rosenthal is optimistic about finding a position in advertising sales close to his hometown, in Chicago, post-graduate school.