Find Your Passion, Your People, Your Journey, With VIM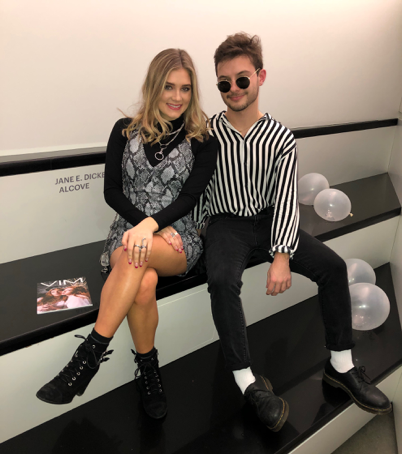 MSU's VIM Magazine Editors-in-Chief Apply PR, Design and Entertainment to Fashion-fueled Student Organization
By Haley Klein 
"At VIM, we aim to inspire, highlight relevant topics and use fashion and beauty to start conversations regarding really pressing topics like climate change or mental health," said Mattie Milne, VIM magazine editor-in-chief. "If we can relate to anyone; we have done our job."
Milne, journalism senior, and public relations and graphic design minor, and Wolfgang Ruth, journalism senior and photojournalism minor, together are the editors-in-chief of VIM magazine. The two say they aim to foster an uninhibited atmosphere that allows everyone to be true to their identity, while creating a publication that supports students being 100-percent themselves. From editing articles and sitting in on film meetings, to being in constant contact with directors, inspiring guest speakers and securing recruiters to attend meetings, the two work around the clock.
VIM is an MSU registered student organization, featuring content relating to fashion, beauty, health, lifestyle and college life. The name "VIM" comes from the MSU Fight Song, and refers to student enthusiasm and vitality. VIM serves as a creative outlet for countless AD+PR majors and minors with its 23 teams – advertising, marketing, public relations, casting, diversity and inclusion, user experience, men's fashion, women's fashion, lifestyle, health & beauty, creative beauty, art, graphic design, film, photography, creative, social media, events, digital creative, finance, copy editing, fashion relations and blog. Along with being on a team, students are welcomed to be a general member, giving them the opportunity to attend general meetings with guest speakers and contribute to the website.
Milne and Ruth are able to lead and connect with student members throughout the process of publishing VIM's two digital magazines and one print magazine a semester.
"Being able to say you're a part of something so magical is a blessing in itself. I really don't know where I would be or what I would be doing if I hadn't joined VIM my sophomore year at Michigan State," Ruth said. "It's a learning process that offers an end-product – and group of friends that I never take for granted."
Whether it be receiving an internship or job from a guest speaker you met at one of the many VIM events, publishing your first article or hearing from AD+ PR alumni first-hand how impressed they are, students can learn more about the VIM community by visiting their website.