AD+PR Women Empower Each Other With Sports Media Group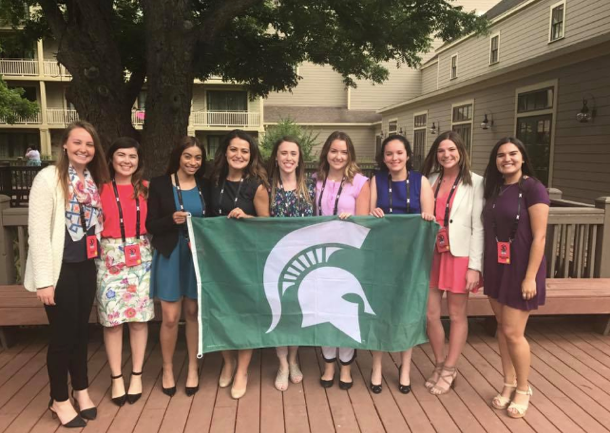 By Alexis Clemons 
Being a woman trying to break into a traditionally male-dominated industry, such as sports, can be a challenge. Luckily, MSU has an organization to help ease the transition for future female professionals in the sports industry.
The Association of Women in Sports Media has been a registered student organization since 2011. It's a support network and advocacy group for women who want to work in sports media. It includes women pursuing careers in journalism, public relations, media relations, professional writing and more. The organization's mission is to promote and increase diversity in sports media.
AWSM president, Kara Keating, who is studying sports journalism, shared her experiences on how AWSM has helped her land internships.
"AWSM helps me apply my organizational skills by planning meetings and monthly events. As executive board members, we bring in industry professionals to help our members gain new connections and expand their network."
AWSM provides opportunities for members to meet and interact with professionals and gain insight as to what it's like to be a woman working in the sports industry by learning from others' past mistakes or struggles.
AWSM vice president, Katherine White, a journalism senior, helps plan informative and engaging events to help members create bonds and prepare for the future.
"We host networking events, group outings to sporting events like Tigers games, and resume-building workshops. We've also sponsored volunteer opportunities, such as keeping stats for USA Hockey when the Women's World Cup was taking place in Plymouth," said White.
Interested students can reach out to AWSM by email or follow their social media handles below. Meetings are held every other week in the ComArtSci Building. Student members pay a $25 fee to help support the organization's annual events that are held with AWSM nationwide.
Along with this student organization, ComArtSci has many student organizations that allow students to meet and work with other like-minded students. Students can visit https://comartsci.msu.edu/student-groups to find organizations that best fit them.
Website: http://awsmonline.org/
Email: AWSM.Michiganstate1855@gmail.com
Twitter: https://twitter.com/msu_awsm/media
Instagram: https://www.instagram.com/msu_awsm/