Diversity, Equity and Inclusion in Practice
How Department of Advertising + Public Relations and MSU Applies DEI
By: Spencer Swenson
Campus Photo Credit: Michigan State University
Diversity, equity and inclusion have been persistently important issues for marginalized groups of people, and has recently gained greater visibility at MSU. Lauren McKenzie, director of diversity, equity and inclusion for the College of Communication Arts and Sciences, is responsible for helping the college apply DEI throughout its operations, including in the Department of Advertising + Public Relations.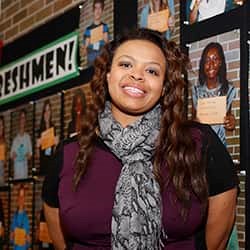 McKenzie has been involved in DEI work in the college for over 10 years and she is the first to serve in this new role for the college. As director, she helps train and educate faculty and staff, and supports hiring search processes for new faculty.
"If we wanted to make big moves in the space…there had to be a dedicated person for this role," said McKenzie. "I help connect the college with everything that is happening on campus in regard to DEI."
McKenzie has found intimate dialogues with the faculty and staff to be the most effective approach for furthering understanding and application of DEI. These smaller conversations about DEI-related issues allow participants to comfortably ask questions that they might otherwise feel uncomfortable addressing.
For students, McKenzie says that ComArtSci DEI office's social media outreach provides content that engages and reflects what students experience. McKenzie says it is important to avoid neutrality and that by the college taking a position, students feel more connected to the conversation and supported by the university.
"(Social media) allows us to engage with students in ways we were not before by creating programming and content that is of interest to them," said McKenzie.
Beyond MSU, McKenzie says that good DEI practice is inextricable from the success of an AD+PR professional.
"You could not be successful in your career without a strong understanding of DEI…it's a lifestyle," said McKenzie. "Having applied knowledge of DEI is what separates one professional from another because you're able to think outside of the box, and that's the call of AD+PR."
When considering what makes good DEI practice at the university and at a professional level, McKenzie says that a critical frame is necessary. She says that purposely and consistently practiced DEI creates a much healthier work culture.
"Once DEI has a full effect, then we don't need to call it out to recognize it…because it will just become our way of doing things," said McKenzie.
McKenzie says that effective DEI practice at the university level can result in increased graduation rates from marginalized groups, students having a stronger sense of belonging, and even leadership of big companies changed for the better. McKenzie also says that positive change starts at the individual level.
"Think about your circles of influence, where you have a voice, have an authority, and think about what you can put into that place," said McKenzie. "It is only through that daily action, that we can see a difference."
Read The Brief for more on AD+PR's new DEI class at MSU, and follow ComArtSci DEI on Twitter and Instagram.