Day-long Detroit conference provides networking for students and professionals
By Emily Hobrla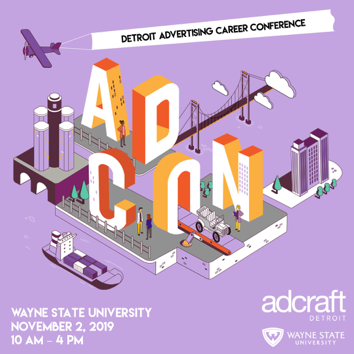 With MSU Fall Career Days behind us and the next major AD+PR campus career fair scheduled for January 2020, now is the time to register for AdCon 2019. The event, which attracts 300-400 attendees from universities and companies across Michigan and surrounding states, is hosted by AdCraft Detroit, one of the nation's oldest and largest advertising organizations. Networking opportunities abound at this one-day conference, where students and professionals come together to hear speakers and complete mini workshops in AD+PR-related subjects.
At registration, students can attend three of the following breakout sessions: Client/Account/Project Management, Strategy, Media Planning/Buying/Sales, Analytics/Research, Social Media/Mobile/Search/Emerging Media, Creative, PR/Events/Communications, Entrepreneurship/Freelance. AdCraft says that the conference is a place where students can "learn about the industry and discover a variety of career options within advertising, marketing, communications, public relations and startups."
Erika Nichols, a 2018 advertising management alumna, spoke to The Brief about her experience attending AdCon during her time as an MSU undergraduate.
"AdCon featured mini-workshops about different aspects of advertising. As an attendee, you got to pick a few you were interested in, and were able to learn and ask questions to a panel of professionals," said Nichols.
She currently works as an associate data manager at MRM//McCann, an advertising agency in Birmingham, Michigan. She said that AdCon 2017 was where she learned about agencies in the Detroit area before graduation.
"Things like AdCon are helpful because when it comes time to apply for jobs, you already have an idea of what agencies are out there," said Nichols.
Nichols' advice to MSU AD+PR students who are thinking about attending this year's conference is to "find a group of friends, pile into a vehicle and go for it!" As a recent graduate and gainfully employed alumna, Nichols says students should take advantage of this and other opportunities to meet young professionals and build their professional networks.
"You never know, one day that interaction could lead to an opportunity," said Nichols.
AdCon 2019 will be at Wayne State University on Nov. 2. Pre-registration costs $25 and day-of registration costs $35. To register, visit https://forms.gle/aWedxNLJCnvareve7.*
*Students can select if they are interested in transportation when they complete this registration form. If there is enough interest, free MSU bus transportation will be provided.