RSOs are helping students stack their resumes before graduation
By Nick Schuller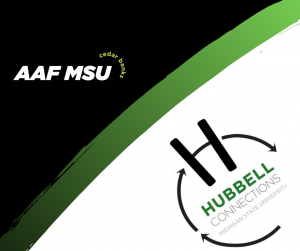 You're applying for a job at your dream company. It's an entry-level position and you can't wait to begin a rewarding and lucrative career. Your eyes confidently scroll down to the job requirements: Bachelor's degree? Check. Strong work ethic? Check. Two years of experience? Too easy, Che— wait…what? Two years of experience!? How is that an entry-level position?!
The dreaded "two years of experience" can catch even the most prepared graduates off guard. Fortunately, student organizations such as the MSU American Advertising Federation and Hubbell Connections are giving AD+PR students real-world experience to complement their degrees. Learn more about these student groups and how they can transform your resume and kick-start your career.
American Advertising Federation
AAF is a student-run organization that functions as an actual advertising agency. Each year, the team is tasked with creating a marketing campaign for real clients, such as Ocean Spray, Honda and Wienerschnitzel.
"Anyone can join AAF, but must interview in August to get in," said Sophia Abramovich, president of AAF and advertising management junior. "We look for the 'badasses' of advertising, People who are willing to work hard and are interested in learning about the advertising industry."
Once formed, the team goes through a full campaign process, from research to strategy to creative execution.
"AAF has taught me everything I know about advertising," said Abramovich. "I had the opportunity to work as a media planner during my first year in AAF. Being thrown into the role was scary, but I learned a ton, and now hope to pursue a career in media."
At the end of the year, the team pitches their campaign at the National Student Advertising Competition, overseen by faculty advisor David Regan, MSU AD+PR professor of practice. The work created by the group has given many students leverage going into the industry, said Abramovich.
Hubbell Connections
Hubbell Connections is a student-run public relations firm that does real work for real clients. The organization is open to anyone, and those who join can expect to draft press releases, create content calendars, work on internal Hubbell branding and more.
"My favorite part about Hubbell Connections is working with peers that are also passionate about PR," said Carly Buell, account executive at Hubbell Connections and advertising management senior. "It's so much better than a school project because you know the other people in your group will be dedicated."
Hubbell prepares students for the real world in many ways, said Buell. Students work on projects similar to those they will be working on in their careers in PR while communicating directly with clients.
"Hubbell Connections has prepared me for my career by giving me experience communicating with clients," said Buell. "Hubbell has also helped me hone my writing skills and build my portfolio."
Hubbell Connections is overseen by faculty advisor Alexandrea Thrubis Stanley, MSU AD+PR instructor.
If you're interested in joining either of these groups, visit their websites: