PR Senior, Lauryn Love, Thrives in NBCUniversal Internship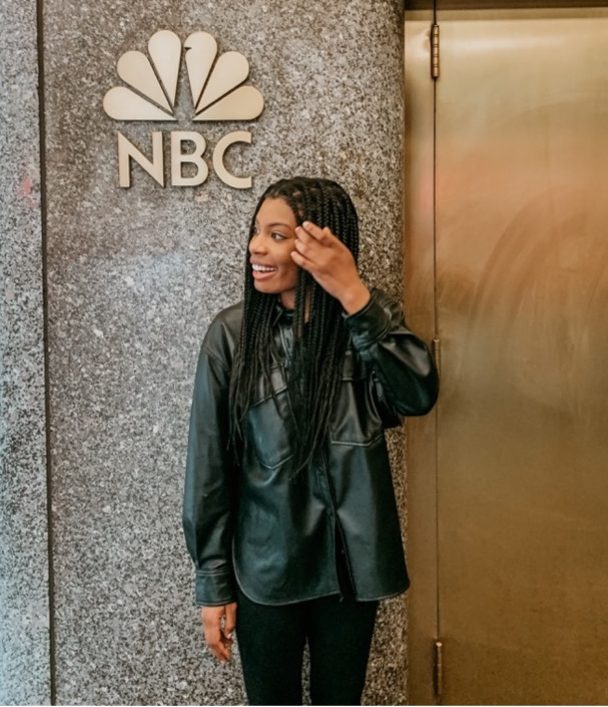 By: Kaitlyn Keele
Communications and public relations senior, Lauryn Love, landed a coveted internship at NBCUniversal in September 2021.
The NBCUniversal Spring Internship Program allows students to work in real-life situations within media and entertainment, specifically NBC television programs, while strengthening current skills from university classes. The program focuses on choosing diverse and passionate students who aspire to continue to develop and better the entertainment industry.
Love's role within the company is to assist in publicity efforts, monitor press and trending news, and compile media lists and other tasks for several well-known programs, including Saturday Night Live, The Tonight Show Starring Jimmy Fallon and Late Night with Seth Meyers.
Love's campus experiences gave her an advantage over other candidates applying for the internship. She's currently president of Delta Phi Epsilon Professional Foreign Service Sorority and director of public relations at VIM magazine, MSU's student-run fashion and lifestyle magazine.
"My previous internships helped me strengthen my PR skills and build my resume," Love said. "I also interned at Discovery previously, which I believe helped me land the [NBCUniversal] internship."
Love started her internship journey as the communications intern for the Haley Stevens for Congress campaign and worked her way up to another big media outlet, Discovery Inc., as the HGTV public relations intern.
Love says her MSU AD+PR classes have made a positive impact on her experience at NBCUniversal. She notes that the faculty and staff have been immensely helpful in her efforts to build a portfolio, gain interview practice and hone her writing skills.
Love says she hopes to use connections from past internships and her current NBCU program to earn a full-time role – and inspire others to do the same.
"Start interning as early as possible," said Love. "Have a goal or 'dream internship' in mind, and seek out opportunities that will help you achieve that goal. Don't be discouraged by rejection; use it to improve yourself for the next opportunity."