Local Agency Adapts to Virtual Environment, Transforming How the Firm Functions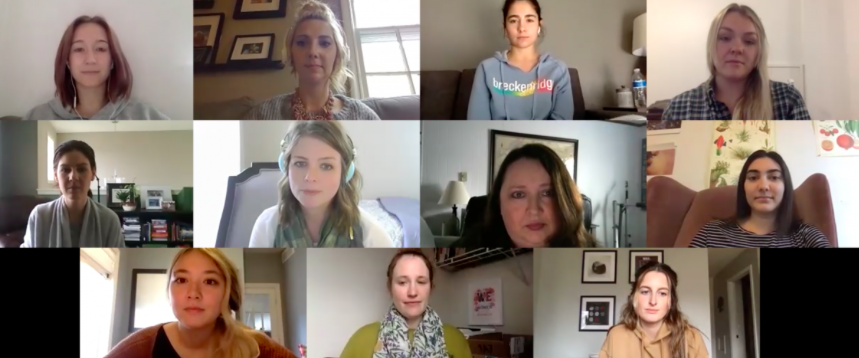 Agency leadership gives students advice for an unprecedented job search in public relations
By: Hadley Kerr
Last March, COVID-19 changed every aspect of our lives. Much like the rest of the working world, Piper & Gold Public Relations transitioned from an in-office environment to a fully remote team. The agency has adapted to the virtual environment, and is transforming the way that it functions.
Piper & Gold Public Relations is a boutique public relations agency located in Lansing, Michigan. The agency is owned by Kate Snyder, an MSU alumna and former adjunct AD + PR instructor. The agency plays a pivotal role in transforming the Lansing community through work with nonprofits, government agencies, associations and small businesses. Some of their clients include Capital Area Michigan Works!, Ronald McDonald House of Mid-Michigan and Michigan Public Health Institute.
"In a way, Piper & Gold was ready to move into a fully remote work environment before the pandemic hit," said Cassie Cotton, senior strategist at Piper & Gold, and MSU alumna. "We had always welcomed the flexibility of working from home, so our processes and infrastructure were in place to make these adjustments. The biggest impact was the social aspects and determining how best to replicate in-person meetings."
The agency implemented a policy that no employees would attend in-person meetings, events, networking or other functions on behalf of the agency. The agency also completed an assessment of hardware, software and other technology needs to ensure employees had the tools to succeed. To their credit, Piper & Gold also pivoted to meet the changing needs of their human resources.
"We implemented self-care practices, such as daily check-ins for team members, a wellness stipend and encouragement of therapy, meditation and brain breaks, and offered employee education on topics such as neuro-fatigue and coping skills," said Snyder.
Cotton believes communication professionals serve a vital role in any organization during a pandemic. Businesses look to their communications staff to help solve problems COVID-19 has placed on their organizations. She says PR professionals have the opportunity to impact the narrative and lead meaningful change.
Snyder reflected on the impacts of the pandemic on the public relations industry as a whole.
"The industry as a whole is widely based on what subset of PR you're in. For those in travel, restaurant, retail, luxury, manufacturing, nonprofit and higher education, it has been economically devastating," said Snyder. "For those in government, public health, social justice, political and crisis communications, business has remained strong or even boomed."
Snyder said she believes agencies and in-house departments will deemphasize the importance of physical spaces, evolving into more of a co-working space. For students entering the field, Snyder says the already tight talent pool has opened up. Now that communicators are realizing physical proximity is not essential to being a part of a team, companies can look nationally and internationally for talent.
"Students should continue to network virtually. Take virtual internships, volunteer, get involved in national organizations not just local ones or those at your college or university," said Snyder. Take advantage of the equalizing impact geography has had on our industry's hiring."
For those students embarking on an unprecedented job search in the public relations industry, Cotton also stressed the importance of networking.
"Stay informed: Know how the pandemic, and possible recession, is impacting the industry you are pursuing," said Cotton. "Join the conversations online and continue to network. Think about how your skillset and experiences can impact potential employers."
Piper & Gold Public Relations often hires students from MSU AD+PR. To learn about upcoming internship opportunities, students can visit the agency's blog.
To learn more about Piper & Gold Public Relations and their transformation to the virtual environment, visit https://www.piperandgold.com.