MSU Society for News Design Helps AD+PR Students Broaden Their Creative Talents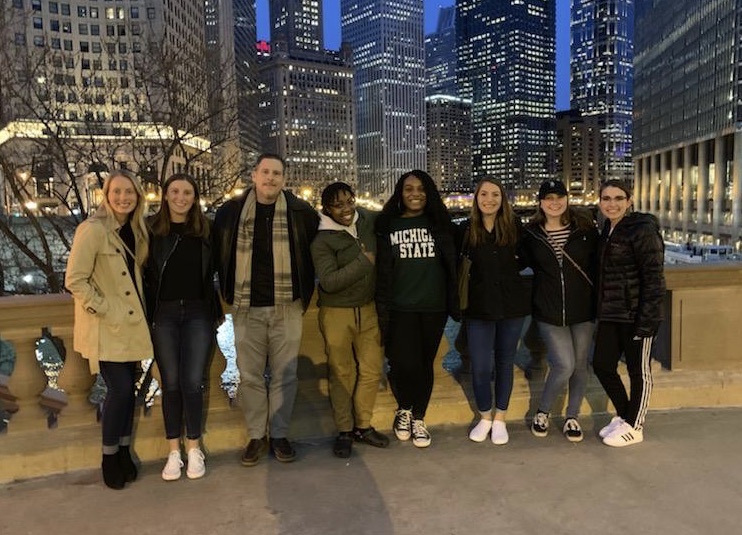 Professor Richard Epps Shares His Design and Layout Knowledge to Help Students Find their Career Paths
By Molly Swint
Need help improving your creative resume? Want to improve your portfolio for a future design careers? Trying to create a network in the news design field? If so, Michigan State's chapter for Society for News Design may be the perfect organization for you to join this semester.
This somewhat hidden gem of an organization has many benefits for AD+PR students who want to get an edge on career preparation. Bi-monthly meetings feature everything from Adobe InDesign and Photoshop workshops, creative resume and portfolio-building, and HTML understanding.
This organization helps students display talents in the best way so they can ultimately have their dream career. Alumni members have worked for The Wall Street Journal, Time Magazine, Chicago Tribune and Adweek among others. Not only have student in MSUSND found jobs in the creative news design field, but also in advertising and public relations.
MSUSND is led by Professor Richard Epps, who joined the Communication Arts and Sciences faculty in the August of 2016 to follow his path of teaching design classes. Epps previously worked for The Detroit News as the news design editor and director for 26 years.
"One goal I want to help people in this group is help them find paths to find jobs and make sure their resumes look like a graphic designer and not an accountant. There is a real need for presenting your work digitally," said Epps.
He continues that it is important for students to display what they have created and wants to help students build their portfolios, but also provide networks to send them to.
Another way to make great connections is by attending the National SND Workshop in April with the organization. This year's workshop is help in Washington, D.C. The workshop is an amazing opportunity to connect with news design professionals in a fun and relaxed setting.
If you don't have time to attend the meetings, you can still benefit from this organization by submitting your creative work to their annual student design contest. This fundraising event for MSUSND gives students from all over the world the chance to have their work judged by experienced professionals. This is another great way to build your portfolio and be recognized for your creative ideas.
To find out more about MSUSND, email President Amanda Barberena at barbere7@msu.edu or visit the MSUSND website.