Meg Dedyne, Class of 2017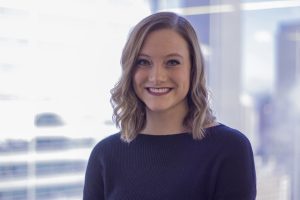 Major: Journalism
Minor: Public Relations
Where do you currently work and what do you do?
I currently live in Chicago, and I am a senior media relations specialist at Walker Sands Communications.
How did you get your position?
I first heard of Walker Sands Communications on the MSU PR trip to Chicago my junior year of college. I knew right away that I wanted to work for this agency because of the focus in B2B technology. I knew that I wanted to work in technology and listening to other MSU alums that had the same passion was infectious. I stayed in touch with the MSU grads I met on the PR trip and in the winter of my senior year at MSU, I reached out inquiring about the Walker Sands post-grad internship program.
They answered a few of the questions I had and put in a good word for me with HR. After the writing test and an in-person interview, I received an offer to join the 2017 summer intern class as a public relations intern. After the duration of my internship, I was thrilled to be offered a full-time position at the company as a media relations specialist. I was then promoted in September to a senior media relations specialist.
What was your favorite or most useful class while in college? Why?
This one is tough. I had many useful classes in many departments, but my best advice is to explore other fields and interests of yours. From Rick Epps' design class, to Joe Wald's strategy class, to political science and indoor soccer classes, I felt like I left MSU well-rounded and fulfilled.
What do you miss most about Michigan State?
I miss learning and being in a classroom environment every single day. I miss learning from those with diverse backgrounds, cultures and experiences. I made so many friends who were international students at MSU. They taught me about the world from all different perspectives and for that, I'll be forever grateful.
What is a piece of advice you'd like to give current students?
Reach out to those you'd like to work with or those at companies you'd like to work for and ask to have coffee. This shows interest and proactivity. Another piece of advice is to read everything. Always know what is going on the news, and if you're interested in a particular field of PR/media/design, start following influencers/journalists/publications in that space. That way, when you go in for an interview, you'll be able to discuss more than what is currently being talked about in the media.