By Mark Pipp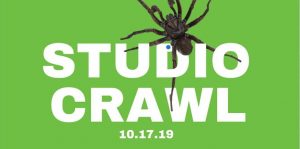 For many students, the time has come to start looking for the jobs and internships. This can be a daunting task for many because of how varied jobs in AD+PR can be. The good news is that the Department of AD+PR has many resources that can help students narrow their search.
Recently, AD+PR promoted the Mid-Michigan Creative Alliance-hosted studio crawl of advertising agencies and studios in the Lansing area. Eight agencies participated and opened their doors for students to tour and ask questions about the work they do. The event provided a look into the variety of areas an agency may focus on, such as art and media, public relations or full-service advertising campaigns.
Grace Hess, a creative advertising student who went on the studio crawl, found it helpful to see the different agencies that participated. "It was good for helping me refine my search and gave me a better understanding of the type of agency I might want to work for," said Hess.
This event was also a great networking opportunity. After the tours had finished, a mixer was held for students and members of the agencies to continue making connections and learn about the industry.
Another resource that the AD+PR specifically provides is the Professional Advisory Board. The PAB is a group of seven professionals at different stages in their careers who have come together to try and bridge the gap between the classroom and real world. They work with AD+PR faculty helping to design new curriculum, and they offer students the chance to talk to them during weekly office hours done through video calls. During PAB Office Hours, students can talk to members of the PAB about any topic they want.
Hanna Porterfield, a member of the PAB and a senior manager of the social media team at W2O, says that to help their job search, students should follow the current trends in the industry that interests them.
"It's important to show you understand the industry; if you can you see the strategy behind what the brands you follow are doing that puts you ahead of the average candidate," said Porterfield.
PAB office hours are held every Wednesday from 1:00-2:00 PM in the Communication Arts building. Contact Arianna ORourke to sign up. To hear about other internships and job search resources, follow the MSU AD+PR social media pages. @MSUAdPR on Twitter and Facebook and @msuad_pr on Instagram.