By Amanda Barberena
"Aaron Applebey, you're my hero."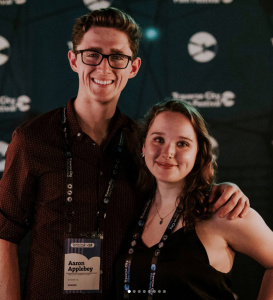 At least, that was what Applebey imagined his boss would say if he completed the project. But first, he would have to get a float; a float capable of holding flowers, Christmas trees, an accordion, characters in German costumes… and Ferris Bueller.
How was he going to pull this off?
From Portage, Michigan, Applebey now calls Michigan State University his home eight months of the year. Applebey is a junior studying Media and Information. He was originally drawn to MSU for the film program, but has been pulled toward another field: public relations.
"Right now, I'm kind of caught between the two worlds of fiction filmmaking and public relations," said Applebey with a divided expression. He is minoring in both subjects and wants to follow both career paths, but also wishes he could focus all of his energy on just one.
For the time being, Applebey is splitting his time between his many interests: school, work and student organizations. He recently joined the Public Relations Student Society of America and the Wharton Center Student Marketing Organization.
So, he has a lot going on, and this past summer was no different.
"This last summer, I was, like, I need to do something PR and publicity – and film related – in Michigan before I try to apply to something in L.A. or New York," Applebey recalled. This led to his interest in an internship at the Traverse City Film Festival, where he spent the majority of his summer. 
Applebey was starting to feel hopeless. His boss had asked him to build a float for a promotion featuring a free showing of "Ferris Bueller's Day Off" at the film festival, but Applebey's contacts kept falling through. However, he had one more option…
As a media and communications intern at the Traverse City Film Festival, Applebey was able to combine his love for film with his interest in writing social media posts. He had two main responsibilities. His first, along with two other interns, was to communicate between the film festival and the local media. They promoted events by posting daily to the Facebook and Instagram pages and updating the festival's Instagram story.
His second major responsibility was communicating between the videographer and publicity executive director. He pitched video content, and once it was approved, he was able to make and edit promotions.
Applebey's last option was halfway up Old Mission Peninsula. He drove to and from Traverse City in one day, hoping that the trailer he picked up would work perfectly for "Ferris Bueller's Day Off."
One project that Applebey reflects on was a promotion called Friends of the Film Festival: a membership that allows Friends to have access to early ticketing, party discounts and Friends-only screening parties. His boss pitched Applebey and his fellow interns the idea of creating a short video based off the TV show "Friends," since Friends ticketing was beginning.
"So, we just set up a couch and ran in and basically reenacted the 'Friends' theme song, and I cut that and put it out within four hours. It got a lot of attention, my boss really liked it," recalled Applebey with a smile tugging at the ends of his mouth. It was a proud moment for him.
"No, it's too big. You can't store it here," the warehouse manager said, staring at the 40-foot-long float. There was no changing his mind. Applebey would have to drive back up and down Old Mission Peninsula, but time was ticking.
Another high point was when Jane Fonda attended the film festival and the interns were asked to make a promotional video. Fonda is known for her exercise videos, so the team decided to make a short '80s-themed exercise video. The actors, including Applebey, were dressed in stereotypical '80s workout attire. The clip was edited to have some static run over the footage to give it an authentic '80s feel.
"Where can we get a trailer on such short notice?" Applebey asked his fellow interns. "We're running out of time!"
The "Ferris Bueller's Day Off" fiasco ended with the team deciding to call U-Haul. Applebey asked to rent a U-Haul trailer for the promotion. It was the perfect size to fit in the storage unit and to decorate. Within hours, the team had collected the proper decorations and rehearsed the famous "Twist and Shout" sequence. They were ready when nightfall approached. "We had somewhere around 600 people watching," recalled Applebey, now smiling from ear-to-ear.
After experiencing a job that perfectly combines his two interests, Applebey would be honored if film company A24 offered him a job in their publicity department. The company is known for producing the Oscar-nominated film "Lady Bird;" – a film that Applebey thought was particularly well-marketed. "They created posters that people could print and hang in their homes," Applebey remarked "I think that's a smart way to build a community. It's a smart way to build trust in a studio or an organization to have those little fun things. Even if it's kind of small."
For now, Applebey is focusing on the present. He is busy with his many classes and clubs. And even though it is hard to take a step back from his responsibilities, sometimes he has to take advice from Ferris Bueller and take a break:
Life moves pretty fast. If you don't stop and look around once in a while, you could miss it. – "Ferris Bueller's Day Off"