By Amanda Barberena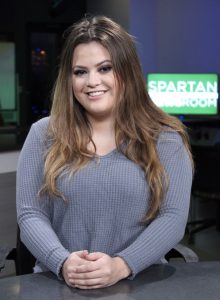 Not only is Madison Loney tackling the public relations world, but she is also preparing for graduation AND her wedding.
If you had asked Loney two years ago if she would go into PR, her answer would be no. She came to Michigan State University with the mindset of going into politics.
However, that all changed when she took a job at the Michigan Supreme Court.
"I found out that I enjoy speech writing and the behind-the-scenes stuff in politics rather than actually learning about politics," said Loney.
Her love for politics and PR grew when she participated in the Michigan Government Semester program.
Loney said, "It was of interest to me because you take classes at the capitol building twice a week and there would be different speakers like John Truscott. That is how I got interested in Truscott Rossman."
Truscott Rossman is a public relations firm in Lansing. Loney works there as an intern as well as at Hubbell Connections and PRSSA.
Loney likes Hubbell Connections because it is more marketing and social media based. At PRSSA, Loney is the alumni relations coordinator, which rounds out her knowledge in public relations.
Even though Loney has a vast amount of experience in public relations, she is not a PR minor. She is double majoring in journalism and political science. She dissipates the common belief that you have to be a PR minor in order to get a job in public relations.
With graduation fast approaching in May, Loney is hoping to get a job as an advocate for a client that she strongly believes in.
"I like doing PR for a purpose," Loney said matter-of-factly.
But for now, Loney is hoping to send out her wedding invitations in time and is checking to make sure the flowers are the correct colors and her bridesmaids are prepared.
She has a lot on her plate (including the wedding menu to decide), but she will continue to smile and let her positive attitude shine through while she completes her many tasks.